About Kanaka outrigger Canoe Club
We are an easy-going group of kupunas (revered elders) who enjoy outrigger canoe paddling as a way to get out on the water, get some exercise, compete with other clubs, and give back to the community. The Kanaka Club was organized in 2009, and is the only local paddling club targeted to people over age 50, and thereby qualified to race in the Golden Masters category.
The Kanaka Club is a member of SCORA, the Southern California Outrigger Racing Association. Both SCORA and the Kanaka Club are 501(c)3 non-profit public benefit corporations dedicated to the perpetuation of outrigger canoe racing, both in Southern California and worldwide. SCORA provides outrigger canoe racing events for adults and children of all ages and brings families together to further maintain the rich Pacific Island culture and traditions that are at the heart of the sport.
Our Mission
The mission of the Club is to provide members education, skill in paddling, and a sense of cultural traditions and Aloha Spirit embodied in the sport of Hawaiian outrigger canoe racing. The Club also sponsors activities of community goodwill as determined by the Membership.
Kanaka Culture
The Kanaka Outrigger Canoe Club embraces a culture of inclusion and consensus-building. We work continually to strengthen our team spirit and sense of brotherhood. When something needs to be done, we all pitch in enthusiastically and do it together. We laugh a lot, we are curious about the things around us, and we work together to make our world a better place
Announcement:

Race Season Begins May 5th
Kanaka Landing is located at Liberty Station (the old Naval Training Center) on beautiful San Diego Bay. We are the only club home-ported on San Diego Bay. It's home to stylish bars, restaurants, and boutiques, as well as Liberty Public Market, filled with gourmet eateries and shops. There are also art galleries and several small museums housed in Spanish Colonial Revival buildings. Along the waterfront, NTC Park has grassy lawns and bike paths
We are the only club home-ported on San Diego Bay. Within Liberty Station, we are on the north end of the estuary, behind the Corvette Diner, which is located at 2965 Historic Decatur Road, San Diego, CA 92106. The entrance to Liberty Station closest to Kanaka Landing is off of Lytton Street (Barnett Avenue.)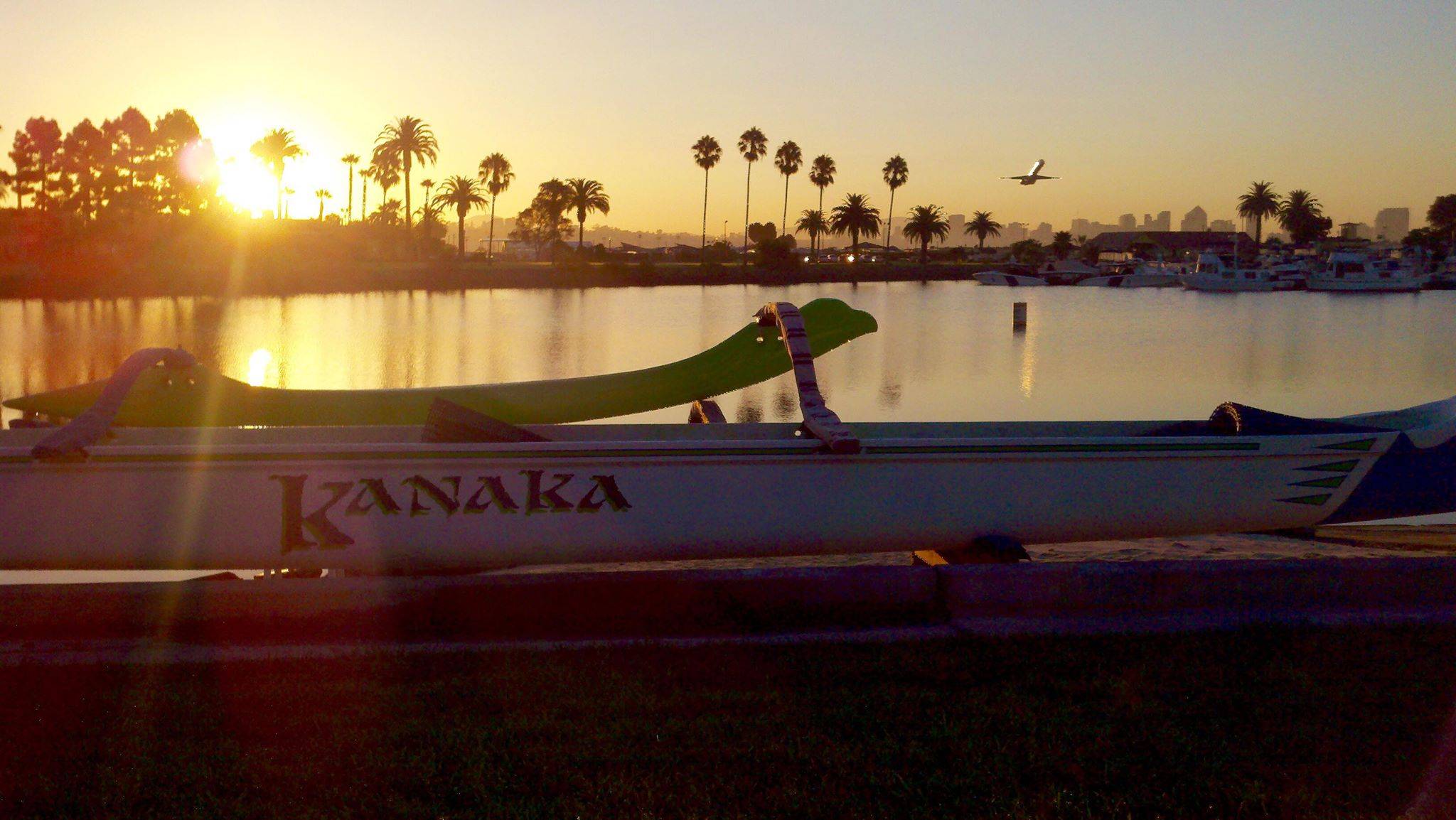 Unlike other Ocean Canoe Clubs, Kanaka OCC paddles three days a week for all twelve months of the year.  After race season we paddle for a good workout and fun.  While we encourage members to come as often as they can, it is not mandatory to come three days a week.
We teach various skills and drills including the following:
Various on the water drills to improve stroke technique, endurance, and timing.

Steersman drills to improve steersman performance

Huli drills to learn your seat responsibilities during a huli and to practice getting back into the canoe and paddling to get back in the race.

Periodically, members have the opportunity to experience different size boats. Every other Saturday will be OC1, (Outrigger Canoe one-person boat) OC2, OC6 days so that everyone can experience paddling in an OC1 or OC2.

Chalk talks on land to demonstrate the stroke and how to steer.

Practice times will increase as daylight increases up to 2 hours on Tues., Thurs. And 3 hours on Sat.

Sometimes we will tag along in a motorboat and film all paddlers in order to critique their stroke technique.

We will have onshore sessions to demonstrate the stroke technique and film people to critique their technique
Members can choose to be part of the race crews or non-race crews.
During race season from Feb. to Sept. the race crews paddle harder and longer to prepare for races.  
Our non-race crews will paddle to get a good conditioning workout.  We call our non-race crews the conditioning crews.
The conditioning crews will sometimes participate in short course races during the race season.
We usually attend a few special races during the year such as Another Dam Race in Parker Az in November and the Queen Lili Race in Kona Hawaii in September.  We extend our race practices to include those races.
Philosophy and Style of Paddling
Outrigger boats are various watercraft featuring one or more lateral support floats known as outriggers, which are fastened to one or both sides of the main hull.  Unlike a single-hulled vessel, an outrigger or double-hull vessel generates stability as a result of the distance between its hulls rather than due to the shape of each individual hull. The hulls of outrigger or double-hull boats are typically longer, narrower, and more hydrodynamically efficient than those of single-hull vessels. Compared to other types of canoes, smaller outrigger canoes can be quite fast, yet are also capable of being paddled and sailed in rougher water. This paddling technique, however, differs greatly from kayaking or rowing. The paddle, or blade, used by the paddler is single-sided, with either a straight or a double-bend shaft.
Feel Free To Contact Us